'an excellent, original idea for a play'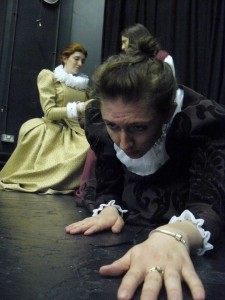 First performed in the 2014 Page to Stage Festival, Mother, Crone, Maiden is now available to book for 2015. Mother, Crone, Maiden is an innovative take on the role of women during the Tudor period. This hour-long show, consisting of three monologues, explores the social role and private histories of Elizabeth of York, Mary I, and Elizabeth I. A cast of just three explores over a hundred years of history through a brand new lens. The show 'unpicks the reductive stereotypes of women', and questions the traditional role of historical fiction.
As seen at: The Bluecoat and The World Museum.
We offer shows on Guarantee (£275) or box-office split. Every show comes with a free workshop that explores the figures that have inspired this work.
To book, or for more details, phone
Jessica Collett: 07403410956
Or email: j-nc2@hotmail.co.uk